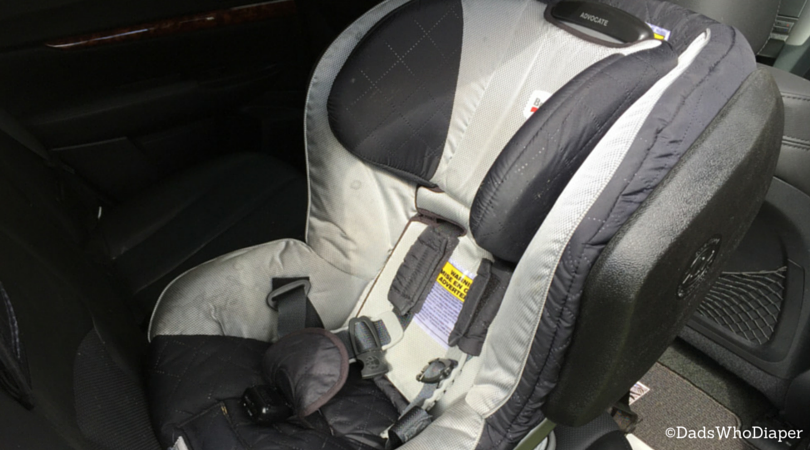 Who knew there were SO many styles of car seats on the market? Before becoming a parent, I had no idea the world we were about to enter when it came to baby products. The sheer amount was simply overwhelming at first.
Now, nearly 19 months in, I'm much more familiar with the scene and way more comfortable navigating my way around all the different items.
A car seat is one of the most important items you'll buy for your baby. Naturally, you want the seat to safely protect your child, be somewhat comfortable for them, and be budget friendly for your family. It can sometimes feel like a tall order but there are plenty of options out there.
Related: Is Your Car Seat Properly Installed?
After our little guy was not so little anymore and graduated out of our Chicco Key Fit 30, we spent some time researching what would be the best next step. We looked over just about every seat we could find and finally selected the Britax Advocate.
It's hard to argue cost as an effective purchasing factor here because there are certainly cheaper car seats to be found. But what we paid for in price, we feel we more than made up in safety and protection.
Safety:
The Advocate feels like being snuggled into a beanbag for them and somewhat resembles a steel cocoon of safety for us. The footprint of the seat is large. With the side impact cushion protection, the Advocate will take up a bit more of your back seat than some of the other options. But don't let that deter you. With additional head support (adjustable), the LATCH buckle system, and sturdy steel support, safety is the top selling feature of the Advocate. It was the biggest factor in our purchase, hopefully we'll never have to use it.
Comfort:
Our little guy became not-so-little rather quickly. That forced us into looking for something that he could continue to grow into and remain comfortable until we turn him forward facing. The Advocate is packed with padding and additional comfort that has kept him happy and eager to climb into his car seat. We've taken several long road trips (including an 8 hour one) and he's had no problems staying comfortable and content.
Growth:
Besides safety, one of the other important deciding factors when looking for our new car seat was one that would adapt as he grew. The Advocate does just that by giving us an adjustable head rest, removable cushion components, and of course adjustable straps. It will live with us long after we face him forward, and likely will remain for baby number two.
Cost:
Now, about the aforementioned cost. It's no secret there are cheaper options available than the Advocate. North of $300 (depending on where you purchase) there's a significant investment with this purchase. However, the quality, safety options, growth flexibility, and more, made this cost worth it for us. We've never once felt he was unsafe in his car seat and were confident if anything were to happen he'd be well protected. For us, the other features outweighed the cost. It is totally understandable if that is not always the case.
Related: 6 Minivans Even Dad Will Love
Britax is well known as a quality and safety conscious child product company. With their line of car seats you are likely to find something that fits your budget and safety requirements. We've been thrilled with our purchase of the Advocate since the day we installed it. It's no longer the pristine seat it once was, with its fair share of food, spills, and sneezes now giving it that attractive worn-in look. But that's par for the course with car seats, it still does its job exactly as it should.
More than anything, each time we strap him in, we're confident he's safe and secure in his seat. That alone we're thankful for.
No products or benefits were provided for this review. All opinions and thoughts are strictly our own.
What was the biggest deciding factor in the purchase of your car seat? Please share below!
Like what you've read? CLICK HERE to get it delivered to you!

Comments
comments