If your little one is branching out and toddling around the house, no doubt you've looked around and noticed just about everything in the house is some sort of impending danger. Baby-proofing is one of those tasks that can be daunting yet necessary to help keep baby safe. Not to mention it can quickly add up buying all the cupboard latches, door handle protectors, and foam for all the dangerous edges you need to protect. If you're like us, we at Dads Who Diaper started off by trying some of the cheaper options. Some of them worked for us, but others did not in spectacular fashion.
The products from Roving Cove (made by Mayapple Baby) are some of the best we've seen. They offer three colors: Coffee, Oyster, and Onyx (Black). The edge cushion comes in one long roll, made to cut to fit, allowing you to cut the distance needed. Made of non-toxic materials, "Roving Cove's are the only cushions available anywhere that do not contain toxic flame retardant chemicals," the company said in an email to us. At $20.11 on Amazon for 15 feet and four corners, you can get started for a reasonable price.
There is a noticeable thickness of the foam to protect foreheads from corners and chins from table edges. The Roving Cove package we were given to try included 15 feet of edge cushion and four corner cushions in the coffee color. With previous brands, our test subjects have been able to pull corner cushions right off the tables. The Roving Cove version lasted well longer than any other products we tried. While it's possible with persistent attempts for the same thing to happen here, the adhesive held much better than expected. Making it a great option for fireplaces, coffee tables, tables, and so much more.
Each package comes well stocked with authentic 3M double sided tape, which allows for a strong bond. Even though our test subjects attempted to pick at the cushions, they held long enough for us to move in and relocate the kids elsewhere. As with any baby safety product the focus is temporary safety, so you don't want the tape to be so strong you're ruining your furniture. The idea is to protect kids from the fall before you get there. In that instance, Roving Cove is a big success.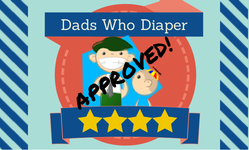 When it comes time to finally remove the protection for good, the instructions included with the package give good options. Suggesting a little vegetable oil for any tape residue left behind. The company has posted some great installation and removal tips as well. In a market that's filled with options, Roving Cove is one that rises above the rest. Protecting your little ones around the house is an investment worth making, and Roving Cove gets it right.
Disclosure: Mayapple Baby provided the product to facilitate this review but as always all thoughts and opinions are strictly our own.
You can subscribe and download the "Dads Who Diaper" podcasts on iTunes here.

Comments
comments