Moving from the bottle phase to the sippy cup phase can be fun and exhausting. There are moments when you feel like a big time success after watching your son or daughter take a few sips from a straw and think they've got it, you're done. That is until they decide they don't like it and boom, drop it to the floor.
We've tried just about every "sippy" cup we could find and think these ZoLi Baby BOT Cups are the best. With a weighted bottom of the straw, no matter which way the cup turns that straw is able to pick up the milk, juice, or water you've got inside.
What we love: Strong, durable, and resistant to the many (many) drops we've experienced the ZoLi BOT cup has endured plenty and kept going. With easy grip handles and slide-able cap to cover for storage, it's easy to take on the go and last all day. The real benefit of this cup though is the weighted bottom of the straw. With kids, you're never quite sure how they're going to hold the cup, often leaving the straw out of the liquid. Not so here. This little contraption allows the straw to pick up liquid as long as the cup is upright. It's quite perfect. ZoLi cups are also BPA and Phthalate free and they've become our go-to cup and it has not disappointed.
Our challenges: With an "x" cut at the top of the straw to prevent fluid from leaking out, we've found at times just the opposite can happen. The straw can create quite the suction effect forcing milk out the top and to leak onto the cup or table. It's happened several times leading us to think the cup is leaking when in fact it's actually just the straw. Also at times the little rubber tube lining the lid can pop out allowing liquid to flow from the side of the cup when tilted. All that being said, the challenges of this cup are FAR outweighed by the positives. So much so, we've purchased a second.
At $15 for the 9oz cup or $12 for the 6oz size, the cups are an investment but from our usage (daily) and experience our cost per use is well worth the price.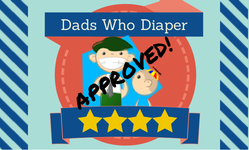 Recommendation: Buy
Dads Who Diaper was not compensated or provided with product for this review.
If you have product you'd like us to review mention it in the comments below. If you're a business and would like to submit products you can email us at dads @dadswhodiaper.com

Comments
comments