When your wife comes home from her baby shower, no doubt she'll have plenty of different types of bottles for your baby. With LOTS of brands to choose from - picking one that you like - but more importantly Baby likes can be a bit overwhelming.
Dr. Brown's is one of the most popular brands, specially designed bottles to help even flow and replicate natural feeding. Also, the patented venting components inside the bottle helps reduce the amount of air Baby takes in, which the company says can help with gas and has a reputation of relieving colicky babies.
What We Love: Dr. Brown's is a quality choice. With two sizes; normal bottles and wide mouth versions, we had no problems getting Baby to take. Dr. Brown's non-glass bottles are BPA free and all versions come with the specially designed patented system to reduce airflow inside. All the components are dishwasher safe (top shelf) which is HUGE considering how many times you'll be washing and rinsing them out. They travel easy, with a disk that you can slip under the lid to prevent leakage and a cap to keep the nipple clean. The bottles are durable and can withstand lots of dropping and wear and tear. As Baby grows you can simply swap out the nipples to increase flow, the same bottle can last with you for quite some time. We started with Dr. Brown's and never needed to change. Our recommendation is to do the same, start here and then move on to other brands if needed, rather than the other way around.
Our Challenges: The technology that helps make this bottle special is also the same that requires lots parts for cleaning. Each bottle consists of a nipple, cap, 2-part internal vent, and the bottle itself. With so many components they're easy to lose track of, especially during travel. Though if your bottle allows for a colic-free baby, then it's likely worth it.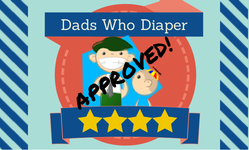 Recommendation: Buy
Dads Who Diaper was not compensated or provided with product for this review.
If you have product you'd like us to review mention it in the comments below. If you're a business and would like to submit products you can email us at dads @dadswhodiaper.com
You can subscribe and download the "Dads Who Diaper" podcasts on iTunes here.

Comments
comments