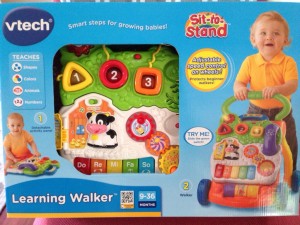 The Vtech Sit-to-Stand Learning Walker is a popular toy for children transitioning from crawling to starting to put their first foot forward. In our usage, we've found it to be durable and a good instrument for our test subjects. We've tested ours for over three months now and have not been able to replicate some of the problems others reported having experienced after a few months of ownership. 
Vtech is a very active in the child learning space and has a wide variety of products for various age groups. The Sit-to-Stand Learning Walker offers a "play panel" that houses a wide variety of music, sounds, lights, buttons and entertainment to keep baby active. The play panel is detachable from the walker for the sit stages and can be reattached once baby starts their steps. The walker allows baby to push it shopping cart style, on hard or soft (carpet) surfaces. Two settings on the back wheels can help stabilize as baby walks. One setting lets the wheels move more freely, while a second setting makes them more difficult to turn. Presumably for different floor types. Though beware on hard surfaces, the settings may not keep the wheels from sliding, making it unsteady as baby tries to pull themselves up or walks at a brisk pace.
Related content: Are ZoLi Baby BOT Cups the next step after bottles?
What we love: Durable, ease of assembly, entertaining for baby, and a fun and functional way to play and start walking. Our test subjects found the play panel not very interesting while disconnected from the walker.  Eventually started using it while connected but with the walker stationary against the wall.
Once they started walking, the play panel became a bit more interesting and the walker is getting daily active use. Repeated crashes into baseboards, tables, and cupboards, and there's been no ill effects on the walker (though maybe our belongings). Using just two AA batteries, makes it a cinch to get up and running. Priced between $25-$35 dollars overall, with parent supervision the Vtech Sit-to-Stand Learning Walker is a good transition walker as baby begins to be more mobile.
Our challenges: On hardwood floors walker can gain momentum forcing baby to try and keep up or become unstable. Some reviewers have commented on program malfunctions with the play panel after short term use, though as we mentioned we have not been able to replicate those problems. 
Recommendation: Buy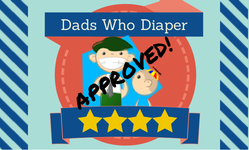 If you have product you'd like us to review mention it in the comments below. If you're a business and would like to submit products you can email us at [email protected]
What products have you found successful for your little one? Share your comments below!
Like what you've read? CLICK HERE to subscribe to this blog!

Comments
comments