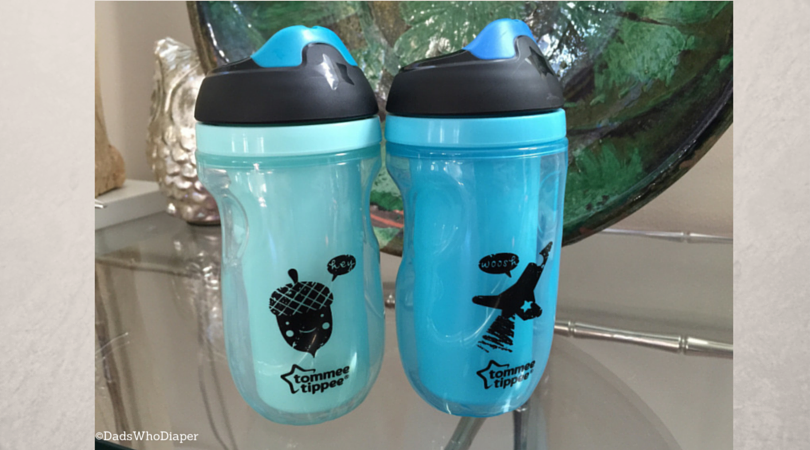 Have you been hunting for a better sippy cup too?
After transitioning from a bottle to a sippy cup we've probably been through every brand and type you can name. We've had some successes, but no matter how great they've been, we always find ourselves cleaning up milk or water after it leaks into the diaper bag or onto the back seat of the car.
We've been using a favorite of ours for awhile, but it was starting to show its age and we were seeing more frequent problems keeping the the liquids in. Even with the issues, we were a little hesitant to give it up because our little guy was quite fond of it and really drank from it well.
Turns out, these Tommee Tippee insulated sippers were just the replacement we'd been looking for.
The 9oz cups, are insulated to help keep his beverages cold while we're on the go and the design makes it easy for him to grip with his growing hands. The biggest change for us was the fact there were no handles or a straw. Meaning he'd have to grip it with both hands and turn the bottle up to get the liquids to the vent. While that may have made my wife and I a little worried, it clearly didn't bother him. He has taken to it since day one and hasn't let go. I think it's safe to say we're the ones having a bit of a hard time letting go. I should note, the Tommee Tippee line does allow you to add handles if you'd like, but we chose to be brave about the situation and let him enjoy his new found freedom.
Related post: Review - Vtech Sit to Stand Learning Walker
With as many dishes and toddler utensils we use on a daily basis, dishwasher safe is the only way to go, and Tommee Tippee realizes that. With only two components, the cup and a lid, washing is a breeze. Toss it into the top rack and you're good to go. Kinda the same way you can slide it, place it, slip it, drop it, into just about any bag without worrying about spilling, and you're on your way out the door. The cups are BPA free, but these days you almost expect that any product you're willing to buy will be.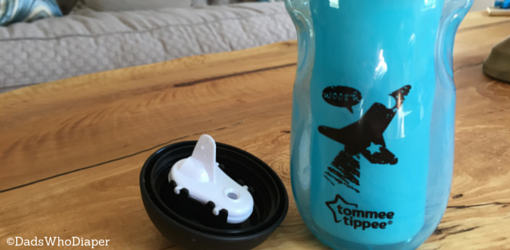 Since starting to use our Tommee Tippee insulated cups we haven't looked back. They've been shatter resistant to every drop, kick, and toss our active little guy has subjected them to, and just keep going. There's been no leaks, only a few drips (at most) a few times. With the rough and tumble treatment they get, that's impressive. The only issue we've had is some condensation got inside the outer layer on one of the cups leaving some drops of water visible. Though it hasn't affected the quality one bit.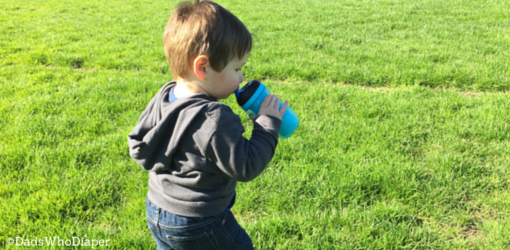 We've been on the hunt for quality sippy cups that will give us what we need. Spill proof, crack proof, plus easy to use and clean. These Tommee Tippee cups have delivered on all of those requirements for us and more. In fact, we finally recycled our old cup and have gone to these exclusively. I think you should too.
Related content: Review - Tommee Tippee Explora bibs
Disclosure: Tommee Tippee provided the products to facilitate this review but as always all thoughts and opinions are strictly our own.
Like what you've read? CLICK HERE to subscribe and get it delivered to you!

Comments
comments