**UPDATED**
The Bumbleride Indie is a functional, durable, and popular stroller with many useful features. In our usage we've found it to be right on target with expectations and functionality. Its ease of use, comfortability, and overall style and look rank high with us.
Bumbleride is a strong player in the stroller market. With a variety of styles for differing terrain needs and each coming in a variety of colors, we've found Bumbleride to be a wise choice from our testing. As noted below, price is definitely a factor in choosing any one of their products. But in a world of "you get what you pay for" we've found this to hold true with the Indie. We've had no issues, defects, or problems since our purchase just about a year ago.
Related: Meet the Dad Behind Bumbleride Strollers
What we love: Sturdy, comfortable for both child and parent, and extremely functional on many surface types. The aluminum frame has thus far held up with no problems and the fabric interior has no visible stitching issues or wear and tear. The tires have maintained quality even over very uneven and rocky terrain. There is ample space for diaper bags, additional items and storage. We've used the Indie since birth (with compatible car seat and adapter) and expect it to last with the growth of our test subject. The back releases to lie completely flat, which can help with naps during extended trips out and about. In fact, that was one of our primary purchase features. With a dual latch release, the Indie collapses with significant ease, providing the ability for transport or storage and a permanent strap allows it to be picked up and carried if needed. The Indie travels fairly well in the folded position, but can be a bit awkward fitting in the car with other items.
Related: SUDS Is The Bottle Washer You Dreamed Of
Our challenges: Notably the cupholder, it's seems to allow beverages to slip out frequently. A little bump and whatever is in there, seems to jump right out. There's just not a tight fit. However, that is remedied with the addition of the Parent Pack (see below). It's an extra purchase, so be aware. Bumbleride strollers are compatible with some notable car seat makers though the amount seems limiting. Make sure you check their compatibility list BEFORE purchasing. At 20 pounds the Indie is not overly heavy but the weight is noticeable when carrying or lifting into/out of car. At a company list price of $499 (many locations often charging more), price is a significant factor in the purchase decision. As noted above, with an investment like a stroller, you often get what you pay for and we expect the Indie to last several more years. So far the purchase price has been worth it. 
Recommendation: Buy!
UPDATE:
We have been absolutely thrilled with our Indie and still use it regularly. Recently, Bumbleride was kind enough to send us some accessories to try with our stroller. So I wanted to include those with our review. To be upfront, we purchased the stroller on our own, but Bumbleride did send us the accessories to try for free. The opinions are strictly our own during our own experience with them.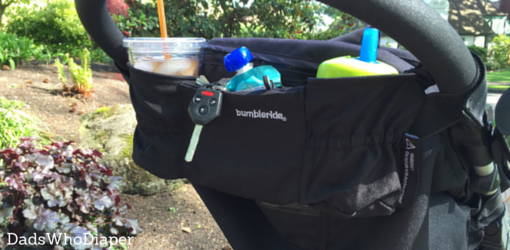 The Northwest (Dads Who Diaper HQ) isn't known for its amazing weather until summer. That being said this year has been a complete anomaly and we've had amazing weather since about February. In fact this weekend, it was nearly 80º. Unheard up until usually July. That's why this Parent Pack has been fantastic. With the weather warming up, we've been needing to take more water to the park when we go play in the early evenings before dinner. We have a cup holder on our stroller but the Parent Pack allows for everyone to have their own cup and gives us so much more flexibility. We can shove a snack or (bottle opener) in the pouch and be off for a great time. It is SUPER easy to install and it's been a great addition to our stroller. Just be aware that it's a soft material meaning it will sway just a bit as you're walking. Make sure you have lids on drinks as they'll get jostled around a bit if you head over uneven terrain .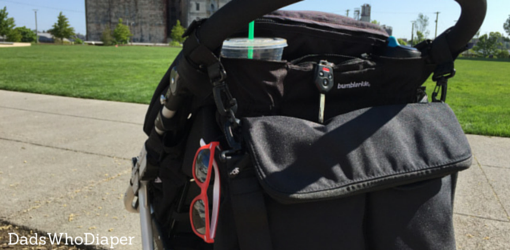 If you're like us, you've been draping your diaper bag over the back handle of your stroller for some time. With Bumbleride's new Diaper Bag you can actually strap it right onto your stroller. It's designed for exactly what we've been doing all along with our other bags. Two small velcro straps easily wrap around the handle and you instantly have great access to the messenger style bag. It's actually perfect for dads because it has ample space for what you need, is easy to carry around, and is easily adaptable to fit many additional items in there. Almost like an everyday bag. I was wearing it messenger style this weekend as we were walking around and then with hardly any effort converted it onto the back of the stroller with the velcro straps. It fit perfectly and made getting snacks and wipes out nice and simple. It also has what appear to be small, light magnets inside to keep it closed, yet effortless to open. Very nice. 
Rain Cover: I wish I could write more about our actual use of the rain cover but as I said before, our weather has been amazingly nice. Yes, we've had some rainy days but they're been few and far between meaning we haven't had to be out in the rain too much. While we haven't used this accessory yet, I have little doubt it won't perform amazingly well just like the other Bumbleride products. For a company focused on quality, I have faith the rain cover would be equally up to the task. I did take it out and inspect and take a good look at the cover and found them to be thick and sturdy which helps keep your little one dry inside their stroller. I'm for sure happy to have it because we know our run of good luck from the weather gods won't last forever so when it comes to an end, we'll be ready.
Disclaimer: Dads Who Diaper purchased the stroller on their own, though accessories were provided by Bumbleride (at a later date) for review. As always all thoughts and opinions are strictly our own.
Like what you've read? CLICK HERE to subscribe and get it delivered to you!

Comments
comments