If you've never heard of or are unfamiliar with the products from Mayapple Baby, I'm glad we at Dads Who Diaper get to make the introduction. If your child is going through the teething stage then their line of teething products are nothing short of a slam dunk.
We were given the Suri Blueberry set to try for ourselves and we couldn't be more sure that these should have been on our list from the get-go. The set comes with an Anchor, Wheel, and Suri the Octopus, each designed for a different stage of teething. They'll help the teething but the puddles of drool are still yours to clean up. Each of the three in the set is soft, pliable, textured, and shaped specifically to help fit in infants hands and mouth. We're going to put it bluntly, these teething toys are the only ones you should be looking for when the time comes.
According to Mayapple's website the toys are award winning in multiple categories and it's pretty easy to see why. While the characters (and backstory) that come in the package are wonderful, the BPA free and Phthalates free traits will help put many of your concerns at ease. As for the products themselves, "raw material is German medical-grade silicone (medical grade is the highest quality, then food grade, then industrial grade.) German (and European) is usually considered the most pure," Mayapple said in an email to us.
At $19.99 for the three pack on Amazon, they are very reasonably priced for the three. They are top shelf dishwasher safe, which let's face it, is important for parents. We've seen no wear and tear from our set after repeated washings. While we've loved the Suri set, if it's not for you, consider the ABC Teething Letters. Though we have not reviewed those.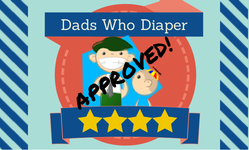 Teething toys are a dime a dozen. There are an amazingly large number of products on the market and many of them will work. But save yourself some time and effort, start with the Suri set, there's little doubt you'll need anything else.
WIN YOUR OWN SET! Be sure to enter our giveaway at the top of this page.
Disclosure: Mayapple Baby provided the product to facilitate this review but as always all thoughts and opinions are strictly our own.
See our review of Mayapple Baby's own safety products Roving Cove here.
You can subscribe and download the "Dads Who Diaper" podcasts on iTunes here.

Comments
comments