Home ownership is hard.
When things break, there's no landlord to call and no security deposit to get back. It's just you, responsible for everything.
Which means you need stuff. Dads need stuff. It's kinda who we are.
Every dad should have his own set of tools. It's kinda like a right of passage, a transition from 'hey, dad can you come help me with this?' to "I own this place. I can fix it, dammit."
So, assuming you're not some awesome "Mr. Fixit" who makes us look bad, here are the tools you need to start your workshop. With the holidays drawing near, it may be a perfect time to stock up and get exactly what you need.
Drill/Impact Driver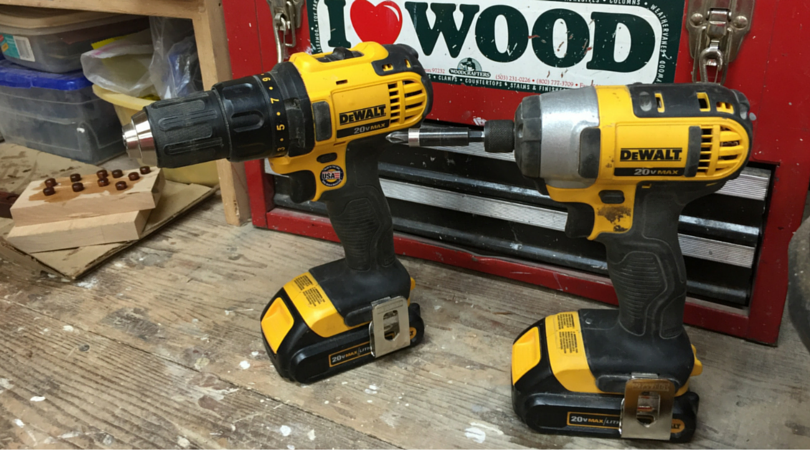 There's nothing like ruining your drywall with your own two hands. Fuel your inner Tim Taylor and use this combo set for everything from building that coffee table your wife wants, to hanging curtain rods and mirrors. It won't make assembling IKEA furniture any easier but it's time to buy things that get delivered and come assembled anyway. I'm a fan of this Dewalt Cordless Combo Kit (it even comes with a storage bag) for cost and ease of use.
Level
It's not sexy but neither is your significant other pissed at your workmanship. They probably like things to be level in your house. In fact, from my experience it's kinda expected. You can use everything from your little torpedo level for hanging a picture to a large 48" standard level for longer needs. They're pretty durable and very cost effective. Get a variety and hang them in your shop, she'll be happy you did.
Measuring Tape
Yes, these are a dime a dozen BUT unless you paid attention to fractions in math class you'll probably want a measuring tape that helps you cheat just a little bit. If you want to sit there and count all those little lines that's fine, but consider one that shows each 1/8″, 1/4″, or even 1/16". It will help you be more precise in your measurements and shave a few extra minutes off your project. Which helps you get your honey-do list done quicker and back to your sport du jour.
Ratchet Screwdriver
You don't know you'll love this screwdriver but trust me, it will make your life easier. Like bacon making almost everything better, this screwdriver hides a small but incredible feature. It also functions like a ratchet, meaning tight spaces are a breeze and for beginners your bit won't slide out of the screw (as much). With a simple twist, you can change directions to drive or remove screws without having to completely change your grip and it's tip is magnetic to snag those dropped screws when you're installing your Nest thermostat.
Tool Set
If there's one thing that moving into a new house taught me is that no screw is the same. Ever. Having a set of ratchets, sockets, bits, and hex keys is paramount to not losing a mental gasket on a semi regular basis. There's nothing more frustrating than starting a project and realizing you don't have the tools to finish. Now, it usually means you get to buy a few new toys but often makes your project take longer than any reasonable man wants to contribute.
Tool Box
The home base for all your gadgets, tools, and sometimes hiding place for things you'd rather just keep to your self. This keeper of the tools to compliment your handiwork is something that is cherished and functional. From a simple bench top box to a more robust rolling tower these are the jewelry boxes for dudes. Find one that catches your eye and then have fun filling it up! She has shoes, you have tools.
There you have it. These are the basic tools any dad should have to get his own shop up and running. Once you get the basics then the real fun begins. Finding all the gadgets and additional power tools you need to add to your collection.
Pass this along to the gift givers this year, and get exactly what you want.
Like what you've read? CLICK HERE to subscribe and get it delivered to you!

Comments
comments