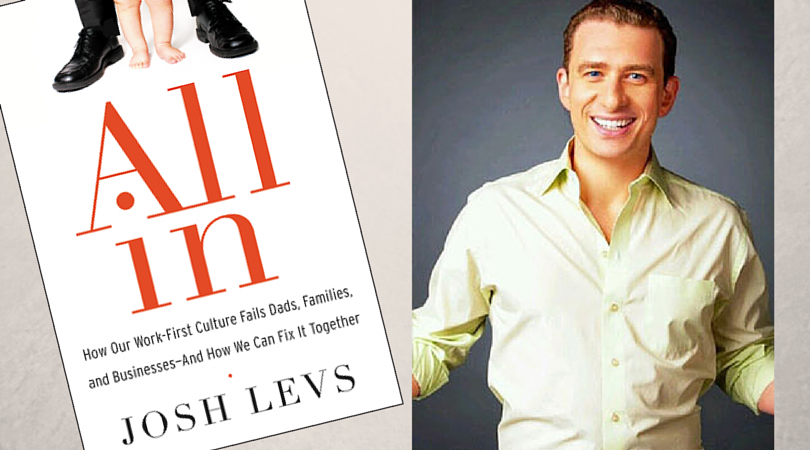 You may know him from his reporting on CNN, or maybe you're familiar with his recent talks at the Dads 2.0 or Moms 2.0 summits. No matter where you have come to learn of Josh Levs, my guess is you'll soon also know him as one of the leaders of the equality movement for parents.
Author of the new book, 'All In' (released May 12) Levs shares the moment he went from covering the news as a journalist at CNN, to becoming a part of it. Levs fought an HR policy at Time Warner (CNN's parent company) that denied biological fathers as much paternity leave from work as others. Levs challenged the policy, lost, and then with one blog post on Tumblr became a champion for all parents - both men and women - who feel it's important to be at home after the birth of a child.
With "All In,' Levs shares the stories of fathers across the country and their experiences of fighting old school fatherhood stereotypes. Levs lays out simple and pragmatic ideas that could help change the way we (and corporations) think about not only fatherhood but parenting in this country. And sticking true to his journalist calling, does so with the facts that will make you wonder why we haven't started this conversation years before?
"The gender police's outdated structures are pushing men out of caregiving roles and women into them." - Josh Levs
Leading up to the book's release, Levs and I chatted by phone about his excitement, how he feels about championing this movement, what surprised him during the writing process, and what he learned about himself. During our conversation Levs was funny, thoughtful, open, and passionate about sharing his thoughts about fatherhood in society. After talking with him at length, there's no doubt 'All In' isn't just a book title, it's a way Josh lives his life as a dad.
With 'All In', Josh Levs gives dads the confidence to speak out and share their story. A rallying cry for fatherhood that continues to build the groundswell of support that will lead to action.
Read below for our full interview with Josh:
What's been the reaction leading up to the release of 'All In'?
There are a lot of people in media and book selling establishment that unfortunately who don't think American's really want to hear from men, from dads, on these issues. The problem is, the irony is, we will only have the kind of advancement for everyone for women and men when men's voices are heard and when men feel comfortable joining the conversations.
It's unfortunate it is an uphill battle to get the word out but fortunately we're getting an amazing response, amazing reviews, and tons of support. The indications are good that the naysayers will be trumped, and that's what I'm hoping for.
If it's been hard to get to publishers and get dads voices heard, when did you have that moment of 'I need to write this and get these stories out?'
I had been covering fatherhood at CNN and on TV and online for years and then I ended up in my situation. A role reversal and suddenly I was in the news. Immediately, when I made the announcement that night, I had support coming in from men's and women's groups and media. So I had this realization that what I was facing was not just discrimination against men, it was discrimination against women. The gender police are having adverse effects on both of us. The gender police's outdated structures are pushing men out of caregiving roles and women into them. So why don't we have enough women leaders in congress? Why don't we have enough women in the 'C' suites at major corporations? Well, for the same reason it's so much tougher for men to stay at home, when it's what we need to do for our families.
Related: HGTV Star Shares Joys of Becoming a Father
Why do you think it's been so challenging for those stories from fathers and families to be heard in the mainstream?
The outdated structures have also created this outdated imagery in society. The popular image of dads is completely inaccurate, completely different from what is actually going on in our homes. We've had these remnants in society of outdated images. These vestiges of the past of dad being this old tough guy, unemotional, stereotype that factually does not apply. Or the uninvolved dad, the lazy dad images that have populated our media and they've populated our thinking to the point that many men I interviewed for this book, many of them are active and connected with their kids and are just wonderful dads who cook, and do all these things with their kids everyday, think they are the exceptions. And that's part of what I'm setting straight in 'All In' is that they are by far the norm. So we've had these popular images that suggest that's not what dads are like, so it hasn't occurred to too many men or women to tell the stories of the realities. To tell the stories that really depict what's going on in our families because all the assumptions went against that. Part of what I do as a journalist is I look for the facts. When I started digging into these studies I saw how different that was and I saw that we were missing it.
There's also the problem that many men are concerned about speaking out because they were afraid that they were unwelcome in these conversations. That if they were to start speaking out that they would be easy for someone to say to them, 'well come on you privileged man, what do you know about gender issues and struggles?' Whereas really it's the opposite, there are so many open arms in this country to men who are ready to step forward and join the conversation.
So hopefully the message I can deliver here is that men and women are 'All In' this together. All of us, who genuinely want equality are on one big team. We need to make sure the structures that act as gender police don't create some gender war that breaks us apart.
With all these conversations with fathers, moms, and leaders, what do you think surprised you the most in terms of what dads are feeling throughout the country right now?
I am still surprised when I run into people who don't get it. That's something I don't get used to. Which is also why I really thought I would get the benefit (at work) and so did my attorneys. It didn't occur to us that a conversation could take place among executives in which they would say, "well, yeah, he points out this is the only group of people that don't get this benefit but lets just leave it that way." It would never occur to me to think that way. So I'm always surprised when I meet anyone who thinks that way.
I got to see the emotional extent to which these outdated structures are hurting us. Guys opened up to me about their stories, what it was like to be told they could not have the time off, the pressure against having just basic time with their families. To be feeling that there are still these outdated expectations on them about not being emotional and not having connections to their children, it hurts. The extent in which these outdated structures are hurting us as men and as dads I think was really striking.
Had the events not happened at Time Warner as they did, do you think you would still have this call to action to be a champion for this 'All In' movement?
Because I was already writing the columns and covering it and speaking out, I always knew that at some point I was going want to focus even more on issues facing dads in this country. It's just that my experience gave me a crash course in a couple things. First, in how things really are. But second, more importantly, solutions. My agent and then the publisher we went with, HarperOne, gave me my marching instructions, they said the same thing. They said, "this is your call to action, this is your 'Lean In', this is you laying out the steps and solutions." I get it because I did do something that turns out to be a bit unusual. More unusual than it should be, and it worked. Time Warner revolutionized their policy and I saw all the support that I got. So it gave me a crash course in the problem, and the steps that I took and everything that happened gave me a crash course in the solutions. That's why now is the time for this particular book.
Related: Meet The Father & CEO Behind Bumbleride Strollers
How has Time Warner responded since the changes? How do you feel the interaction turned out?
I think the best words are I remain hopeful. I want businesses to succeed and I continue to believe - as I wrote in the book - that business leaders want to do what's best. I'm sure there are people who may dislike what I've done but my daily experience is that I'm surrounded by colleagues who love what I've done and are super supportive. So if there are people in executive ranks somewhere who now dislike me or have problems with me at the Time Warner level then they have not voiced that to me. And I also know that when I originally requested this policy that there were people who agreed with me. Because the one update I was given along the way was, the discussions were looking good for me. So at some point, someone or more than one person, made the decision to say no, but I know I had support among them.
I really am hopeful because I think they're going to find - I'm sure they will - it's factual, companies have found that their new policy is so good for them that maybe they'll decide I did them a favor.
Once 'All In' hits bookstands, what do you hope people will take away from the book? Are you asking them to take action? Are you asking them to be inspired? Or all of it?
I hope people will see that men and women across this country can make family life and work life integrate instead of being in conflict with each other. That will benefit all of us. It will benefit work and it will benefit our family life and it can be done through little things. I emphasize in the book, you don't have to do the kind of things I did, but there are little and simple steps - and in some cases if you want to do more not so little steps -  that we can take together so that we create true integration in work life and family life. When you start to explore these issues and you see that it helps work and it helps home life to create better and smoother integration and balance, my hope is everyone will feel inspired to take some of these steps in their own lives, improve their own lives and as a result improve things for all of us.
How do you balance family, work, promoting a book, and everything else?
It's a lot isn't it. (laughs) When my first son was born, which was eight years ago, I had a meeting with the head of CNN, and pitched him a role I would play on air. It involved traveling very rarely so that I'm home. And I travel very rarely. Even though I work hard and my family depends on my income, I also go home everyday at a reasonable time. I go to the gym a couple days a week, I bring the kids with me often, I'll go home and make dinner and we eat together, we all read books, and they all go to sleep. I have this saying that says, "All you can do, is what you can do in a day." So I try to remind myself that even if I have a hundred thousand things to do, it's not all going to get done that day.
There are bursts of times when I have to do extra work, that's less exciting because I want to be home with the kids but the I make the promise to myself and to them that I'll make up for it afterwords by taking time off and having more time with them. The biggest personal success I can have from this book is that it sells enough copies that I can be a full-time dad for awhile (laughs).
Did you learn anything new about yourself in going through this process of writing 'All In'?
Yeah, definitely. Because I'm a journalist my initial inclination was to write something that was only facts about what's happening. When my agent and publisher said to me, "no, give us your guidance" it opened up this side of me that was ready to burst forth. I was like, "oh, I can start using that voice in which I say here are the steps, here are the solutions." I discovered that writing this. I discovered that I'm ready to speak in my own voice and share my own experiences and the solutions I've learned from them in a much bigger way. It's like I'm entering my own 2.0 phase. It's a demarkation for me that I get to open up my own voice in a new way and that's pretty exciting.
Any other books percolating?
Oh, yeah. Oh, yeah. (laughs) I've got a lot of stuff I want to write after this but of course it depends largely on whether anyone buys this one. So fingers crossed for 'All In' that it could be the beginning for me but also I hope this could be the beginning for more books from men and women that address these issues in big ways that include voices of men.
This interview has been edited for length and clarity. 
JOSH LEVS, father of three, has spent years reporting for CNN on air and online, and serving as the network's dad columnist. Prior to CNN, he was a reporter for NPR. His many prizes include six Peabody awards, two Edward R. Murrow awards, and a designation as a Journalist of the Year from the Atlanta Press Club. Levs is also a motivational and keynote speaker. He lives in Atlanta, Georgia, with his wife and children.
Like what you've read? CLICK HERE to subscribe to this blog!

Comments
comments