The entire world, myself included, has Star Wars fever thanks to the release of the Star Wars VII trailer.
As a good parent, you must use the time you have left - now through December - to get your children as pumped up about Star Wars as you are.
Here are 15 Etsy Products Every Star Wars Parent Needs to Know about (they're all under $10!)
$4.00 - Each 8-pack comes with one - red, orange, yellow, green, blue, purple, brown and black crayon. Each piece is approximately 1 3/4 inches tall x 1 1/4 inch wide x 1/2 inch in depth and is wrapped in bubble wrap.
$6.75 - The only problem is that I'm pretty sure the wife won't let me add this to the master bedroom.
$5.75 - Do you have a potty training boy in your house? How about a potty trained boy that has a hard time "aiming?" Maybe, you have a man in your house that could use a refresher course and you're tired of cleaning that toilet before you use it….these "targets" are for you!
$7.65 - Who cares if you buy the mug for yourself, the kids are thinking it.
$9.99 - "How funny I thought it would be to have Buzz join the ranks of Darth Vader's well known henchmen. So I set it up, photographed it, added a bit of post production finishing touches, and my very first LEGO® inspired, toy photography art had been created."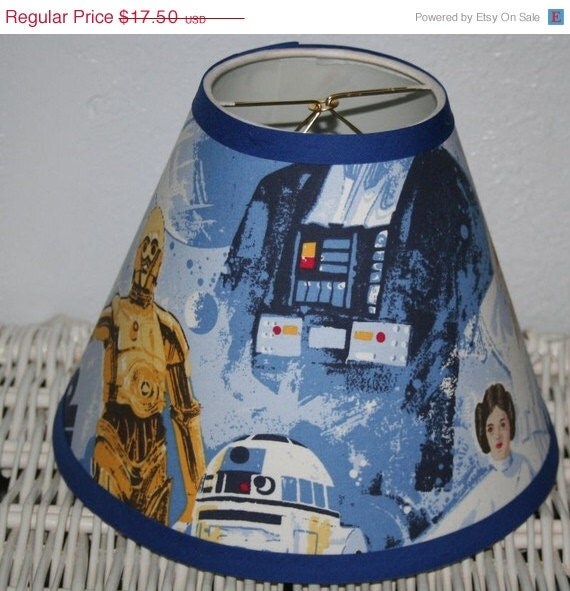 $10.00 - Read your bedtime stories under the glow of this Star Wars lampshade.
$9.80 -Kids will destroy these cookie Deathstars faster than Luke did with the real one.
$6.00 - This lovable character is a protocol droid designed to serve human beings - built by Anakin and companion to R2D2, this fellow can accompany you in your travels.
$8.99 - Star Wars Birthday Invitation - Make their birthday special with this unique Birthday Party Invitation featuring Darth Vader!!
$7.98 - Nothing Screams Master Bedroom like a personalized Star Wars Bedroom sign.
$2.99 - Shouldn't every good parent iron a Rebel Alliance patch on their kid's backpack?
$6.00 - You can never have too much flare.
$4.50 - This adorable Star Wars inspired bottle cap bracelet is on pink elastic. The elastic is about 5.5-6″ and will fit ages 3 to adult. The images are on a flattened bottle cap and sealed with epoxy so they don't get ruined.
$3.00 - "These crochet cuties will turn your little one's freezie in to a light saber they'll never forget!! Grab a couple of these and a box of Mr. Freezies and you have made every kids dream come true!! Just make sure they don't start whipping them around with the tops cut off!! I learned that one the hard way :)"
$5.59 - Whether it be a dresser or kitchen sink in the bathroom nothing will complete the room more than a Darth Vader knob.
Related: 6 Reasons Darth Vader is a Great Dad 
Like what you've read? CLICK HERE to subscribe and get it delivered to you!
Comments
comments