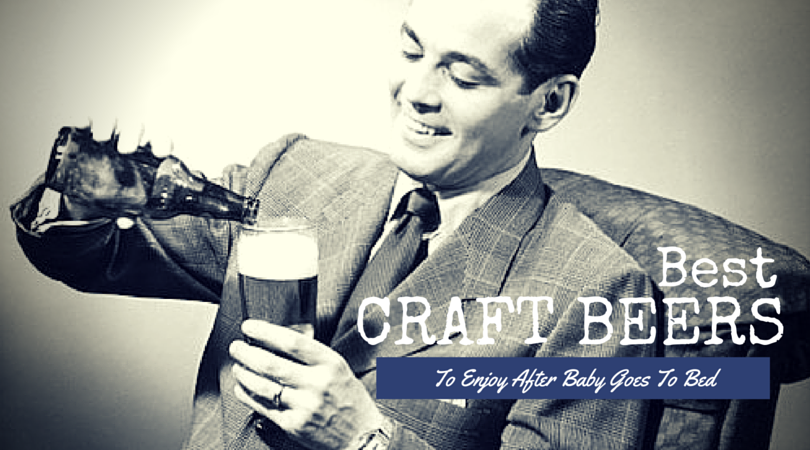 So the baby (or kids) are finally in bed, you've had a long day at work, and you've magically found a few minutes to enjoy some down time. If you're anything like us, a beer would hit the sweet spot. Right. About. Now.
So what to do? Well, pull your favorite brew out of the fridge and nurse that bottle like your baby does, of course. Having a fine crafted beer at the end of the day could be the only thing that keeps you going all day long, so why not make it worthy of your tastebuds.
We asked Brian Yaeger, a professional beer expert (and all around beer badass), to give us his list of the best craft beers you should be drinking after baby goes to bed. He's got a three year old, so he knows a few things about needing to release a little parenting steam. Only he probably gets to write it off as "work."
Related content: 10 reasons to have a newborn during football season
So here you go, you can thank us later. *Six packs accepted*
Top 9 beers to enjoy after your baby goes night-night.

1. Left Hand Milk Stout (CO)
I think it's only natural to associate milk stouts with kids (for dealing with them, not filling their bottles) but the reality is, when you take a rich stout and sweeten it with lactose (milk sugar), it becomes as warm and comfy as your kiddo's binky. Left Hand's is a masterpiece. Visit Left Hand Brewing.
2. Foothills Sexual Chocolate Imperial Stout (NC)
Look. This may be the closest thing you get to sex in who knows how long, so bottoms up. This coveted chocolate stout is as orgasmic as the name implies. Visit Foothills Brewing.
3. Founders Breakfast Stout (MI)
I realize this list is all stouts so far, but by virtue of your baby being down, it's night time and stouts can be wonderful desserts all on their own. This one features velvety oats, decadent chocolate, and Kona coffee proving that not only does dessert make great breakfast but b-fast makes great dessert. Try the bourbon-aged version, Kentucky Breakfast Stout, if you can find it. Visit Founders Brewing.
4. Coalition Loving Cup Maple Porter (OR)
Hey, at least it's not a stout. This British-style porter is on the dry side, offering the desired chocolatiness but without being thick or sweet. Enter the Grade A maple syrup which is more pronounced in the aroma than in the swallow. Comes in 22-oz bottles so you can share with Wifey. Visit Coalition Brewing Co.
5. Russian River Pliney the Elder Double IPA (CA)
The ultimate reward for a job well done (keeping the little one alive for another day and retaining a semblance of sanity). This is virtually everyone's favorite DIPA for a reason: bodacious mounds of Simcoe and Amarillo hops, among others, will give you sweet dreams. Visit Russian River Brewing.
6. Occidental Kolsch (OR)
Maybe you don't want a beer as heavy as that last diaper you changed (bad analogy). Kolsch is one of the lightest styles of beer originally from Cologne but Portland's Germany-loving brewery does this clean, dry beer spot on and it comes in tallboy cans, perfect for stacking next to your easy chair. Visit Occidental Brewing.
7. Great Divide Barrel-aged Old Ruffian Barleywine (CO)
Sipping something this sophisticated that has matured-possibly longer than your baby's been alive-in whiskey distilled there in Colorado, is the perfect antidote to cries and baby-talk. Oaky, toffee-y, pruny, and slumber-inducing 11+% ABV. Visit Great Divide Brewing Co.
8. Funky Buddha seasonal releases (FL)
I've never been to Florida but I tried their beers in Denmark and they do crazy, imaginative beers. Y'know how we want our kids to maintain their youthful playfulness? Imagine the beers they might make. "No Crusts" tastes just like a PB&J; "Bonita Applebum" is liquid apple pie. Like being a kid again for the 21+ set. Visit Funky Buddha Brewery.
9. Base Camp S'more Stout (OR)
There's no actual graham crackers, marshmallows, or chocolate bars in this stout, but biscuit malt imparts a grahaminess, roast malt conveys the chocolate character, and that sweet, vanilla gooeyness comes in at the finish, while smoked malt lends an overall campfire quality. Visit Base Camp Brewing Co.
Related content: Dads who are awesome at being awesome
Beer is said to be the nectar of the gods and it may just be the magic potion you need to help you forget the latest blow out, meltdown, or tantrum. Plus, now you can impress your friends by dropping a little beer knowledge on them. With this list in hand, race off to your nearest fine beer establishment and stock up. You never know when you may need some reserves.
Brian Yaeger www.BrianYaeger.com is the author of the brand new, comprehensive guidebook *Oregon Breweries* and *Red, White, and Brew: An American Beer Odyssey*. He contributed to the Oxford Companion to Beer. He earned a Master in Professional Writing (with a thesis on beer) from the University of Southern California. He runs Inn Beervana Bed & Beer in Portland along with his wife Half Pint, 3-year-old son IPYae who has been to over 100 breweries so far. Follow him on Twitter @Yaeger and @OregonBreweries and, begrudgingly, on Instagram at @OregonBreweries
You can subscribe and download the "Dads Who Diaper" podcasts on iTunes here.
Follow us on Twitter: @DadsWhoDiaper
"Like" us on Facebook: Facebook.com/dadswhodiaper

Comments
comments