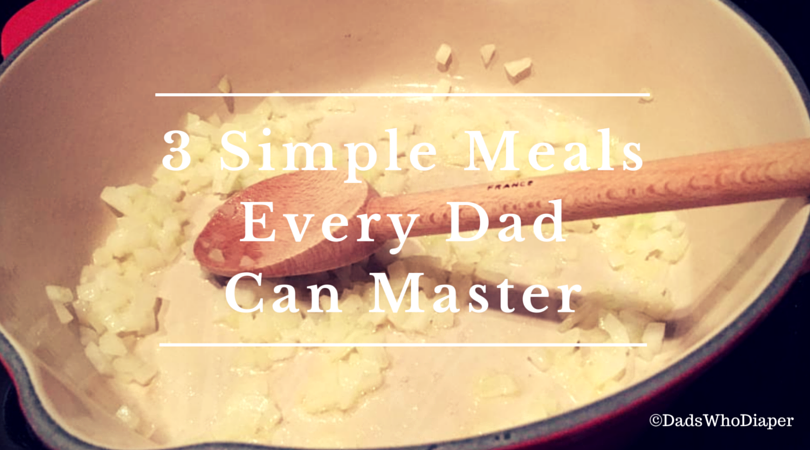 In our family, I am the chef. I prep and cook the nightly dinners, do the grocery shopping, and do all the purchasing for our family when it comes to goods. I didn't really intend for it to be that way but when my wife and I first got married our schedules were wildly different. I worked early (early) in the morning and was home by noon which allowed me to do many of the daily agenda items that she couldn't do since she was at work.
I've since switched jobs and no longer have that crazy schedule but our routine has remained the same. I wouldn't say I LOVE doing all the cooking, but there is a sense of satisfaction each night knowing I've improved a recipe I've been working on or gave a brand new one a shot. Now with a toddler, I've been talking with many other new dads and it seems I'm not alone as the parent who gets dinner on the table.
My skills are far from amazing but dinner does taste pretty good each night. I've always wanted to have a "go-to" recipe that I can recall from memory, that's a bit out of the box, and not to mention delicious. So I reached out for a little help.
Related content: Best craft beers to enjoy after the kids go to bed
Chef Kyo Koo is a father to a young son and Executive Chef at Bluehour in Portland, Oregon. It's routinely considered one of the best culinary destinations in a city that's become the epitome of the foodie culture sweeping the country. Chef Koo shared three simple, delicious, and perfect recipes for you to master in your kitchen. So now you have no excuse to whip up something delicious for your family tonight, and on Saturday morning.
Related Content: Our Interview With Chef Kyo Koo
Corn & Buckwheat Crepes
"I developed this recipe because my son has an allergic reaction to wheat. He loves them for breakfast or as a midafternoon snack."
Makes 8 large crepes
3 tbsp melted butter
2 cups whole milk
1 cup buttermilk
1/2 cup cold water
1 cup corn flour
1/2 cup buckwheat flour
1/2 tsp baking powder
2 tsp kosher salt
Extra butter for cooking crepes.
1. Combine melted butter, whole milk, buttermilk and water in mixing bowl.
Lightly stir together with fork
2. In a separate mixing bowl, sift together corn flour, buckwheat flour,
baking powder and salt.
3. Slowly add dry mix to the liquid in small batches, stirring lightly with
a whisk until fully combined and smooth. Let rest for 10 minutes.
4. Heat a large non stick saute pan on medium low heat, add 1/2 tsp of
butter and melt in pan, add just enough batter to cover bottom of saute pan.
5. Cook until first side of crepe is golden brown, approximately 2 minutes.
Flip crepe with spatula and cook other side. Remove crepe onto large
serving platter. Repeat process with remaining crepe batter.
6. Serve with butter and jam.
Carrot, Bacon and Yellow Beet Soup
"My son loves vegetables, and what better meat to use in a soup than bacon?"
Serves 3-4
2 cups of small diced carrots
2 medium sized yellow beets, small diced
6 oz finely shredded cabbage
1 tablespoon vegetable oil
4 oz applewood smoked bacon, cut into thin strips
1 small onion, minced
2 cloves garlic, minced
2 tablespoons finely chopped parsley
2.5 quarts chicken or vegetable stock
1.5 tablespoons kosher salt
1. In medium stock pot, add vegetable oil and bacon, cook on medium low
heat for approximately 4 minutes until bacon begins to get crispy.
2. Add onions, cabbage, garlic and parsley and salt.
3. Continue cooking on medium low heat until cabbage and onions are tender,
approximately 7 minutes.
4. Add in carrots, beets and stock. Bring to boil, lower to a simmer and
cook slowly for 30 minutes or until carrots and beets are tender.
Chicken & Potato Stew
"This simple stew is a great way to get dinner on the table if you are pressed for time."
Serves 2
4 bone-in, skin on chicken thighs
2 shallots, minced
1 small carrot, sliced thin
8 button mushrooms, sliced thin
8 ea fingerling potatoes, cut into 1/2 inch pieces
6 basil leaves
1 tablespoon vegetable oil
1 quart chicken stock
Salt and pepper to taste.
1. Season chicken thighs with salt and pepper.
2. In a medium stock pot heat vegetable oil until smoking hot. Carefully
add chicken thighs skin side down. Lower heat to medium and cook until skin
is golden brown.
3. Using tongs, flip chicken over to other side amd brown for 2 minutes.
Remove thighs onto a plate.
4. Add shallots, carrots, mushrooms and basil to the stock pot. Cook on low
heat for 3 minutes.
6. Add chicken back to pot with fingerling potatoes. Cover and simmer
slowly for 35 minutes. Season with salt and pepper to taste after potatoes
are tender.
7. Serve with rice or some toasted bread.
Related content: Our review of the Boon highchair
Kyo Koo, Bluehour Executive Chef is a Portland native who developed his love for cooking at a very early age. His primary influences range from the cuisines of his mother's Korean home-cooking to ingredient-driven modern American cooking. Koo has worked at renown restaurants including Rockenwagner in Los Angeles, Scooter Kanfer in West Hollywood, Mona's Bistro in Seattle, even Magaritz in Spain before returning to Portland. Koo and his wife have one son.
Like what you've read? CLICK HERE to subscribe to this blog!

Comments
comments