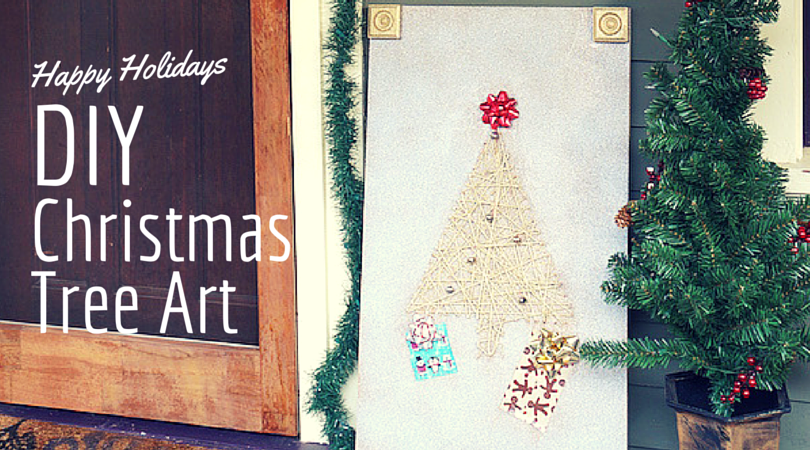 This post is sponsored by The Home Depot.
The holidays are a time for family and gatherings. While we at Dads Who Diaper aren't the most crafty of gentlemen, we do love spending time with family and gathering everyone around the table together. When Home Depot asked us to design some DIY projects to do with kiddos, we thought, "they do know what they're getting right?" Well, fortunately for us, they still wanted in and we were thrilled.
The great thing about this project, is that it's super easy and super customizable. From the type of string or twine you use, to the color of paint, you get to put your own stamp on the project. Making it true family friendly activity. For us, finding excuses to bring the family together is a great idea, so take this and run with it. We love the fact that here, perfection isn't the focus. It's about providing something little hands - with proper safety gear and supervision - can be apart of and celebrating the holidays together.
Our project features a Christmas tree using twine spun around copper colored nails. We used silver and gold glitter Rust-Oleum spray paint for a bit of a color, and added a few decorative touches. Follow the step-by-step directions below to get started on your unique project.
We started with these products to get our creative juices flowing. We then used a pre-cut piece of wood about 24X30 as our background and got to work.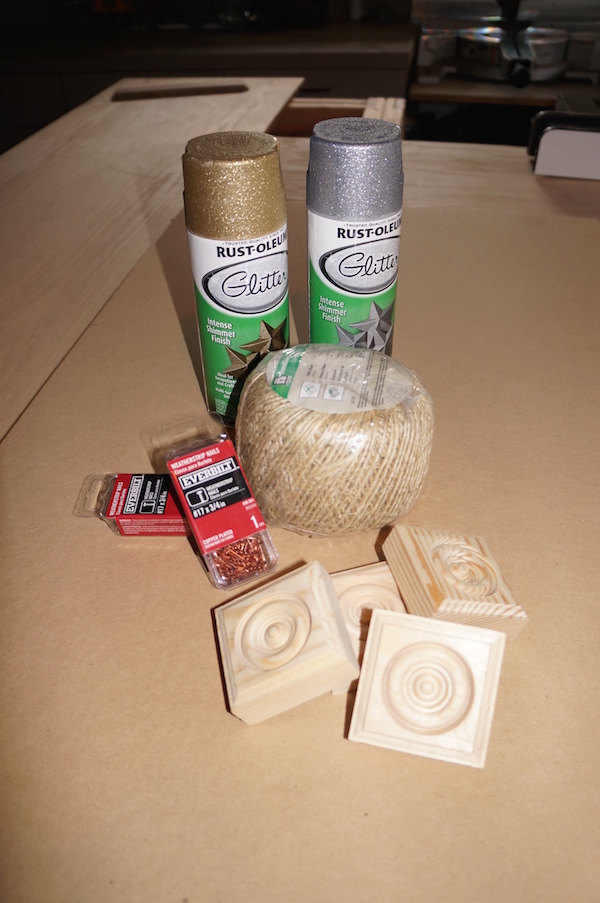 Next, we spray painted the board with Rust-Oleum's Silver Glitter spray to give it a shimmer and stand out among all the green and red. Give it a few coats, to really make it stand out.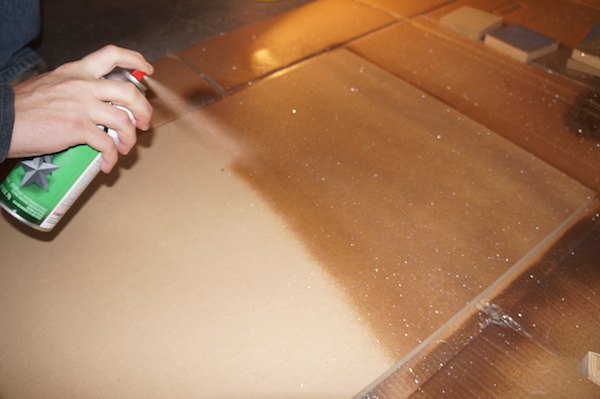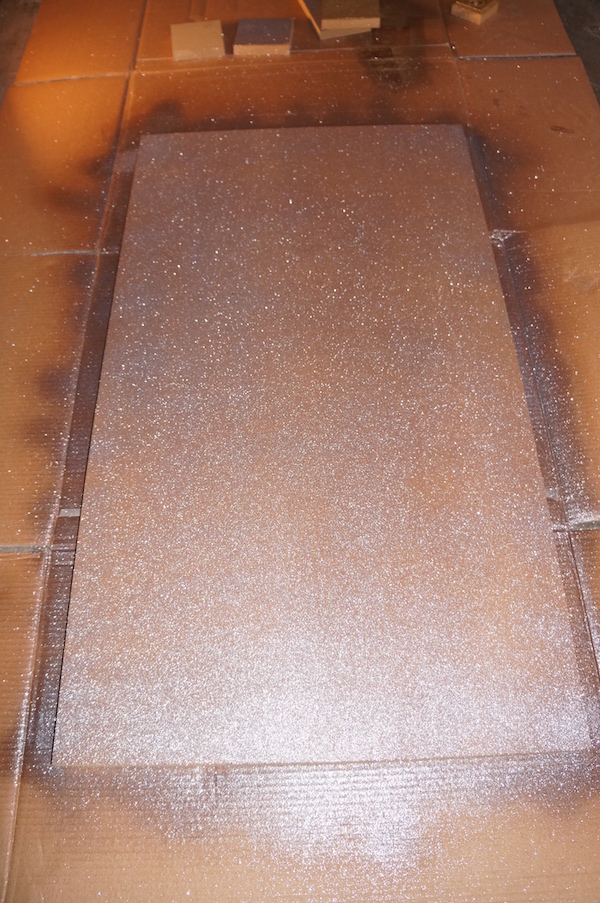 Next we cut a Christmas tree template out of cardboard (it could be any shape or size to fit on your background.) We centered it on our board and anchored it with one nail.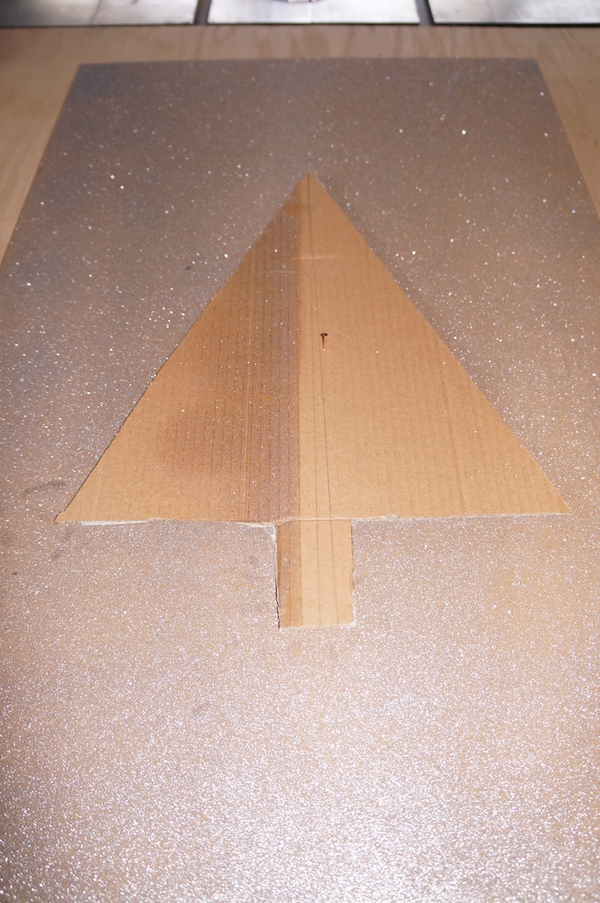 Then we got to work hammering in each of the nails to outline the tree. Using needle nose pliers helped hold the nails in place without hurting any fingers.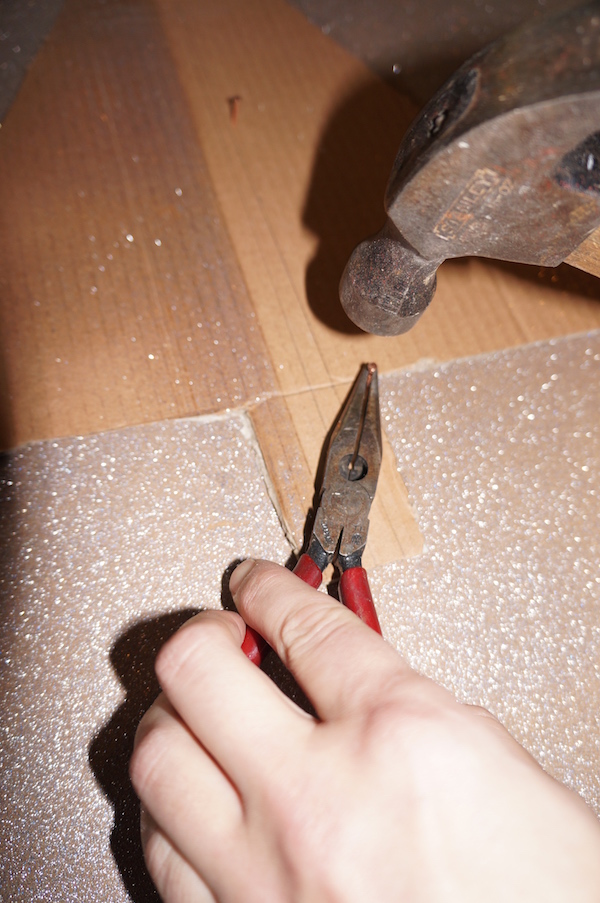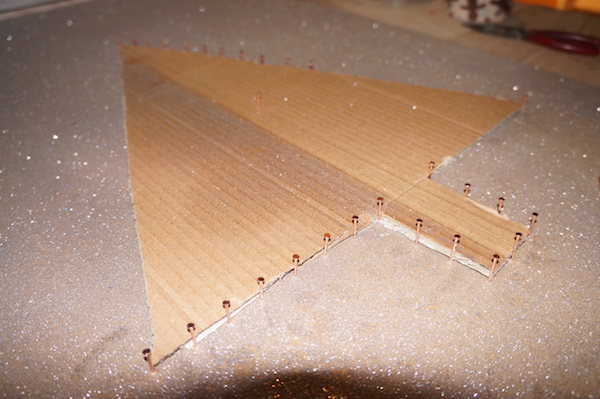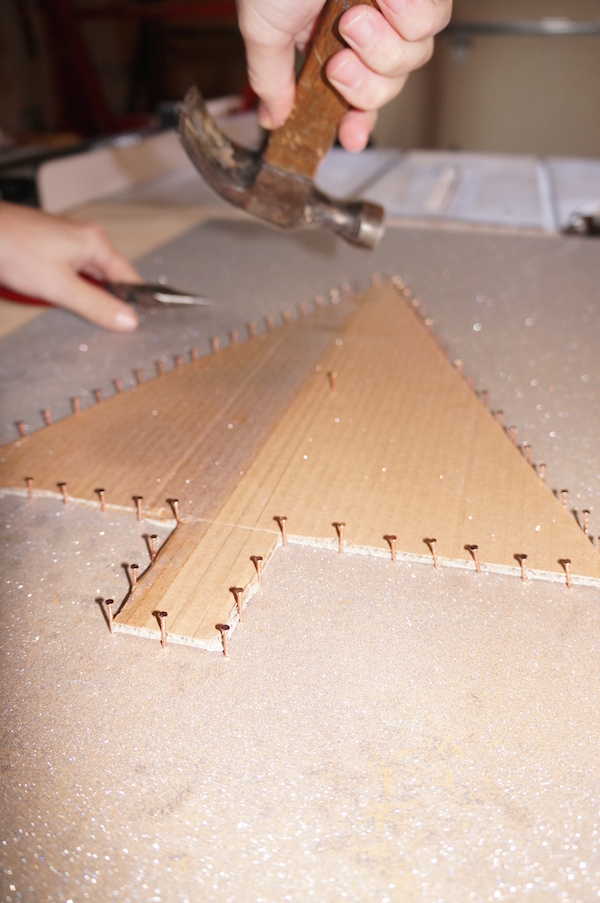 And we have our tree outline.
Next, tie one end of the twine into a knot and loop it around one nail. Then in random order start wrapping the twine around all the nails. Continue until the tree looks full and you've hit all the nails at least once. Feel free to continue as long as necessary to "fill" in your tree.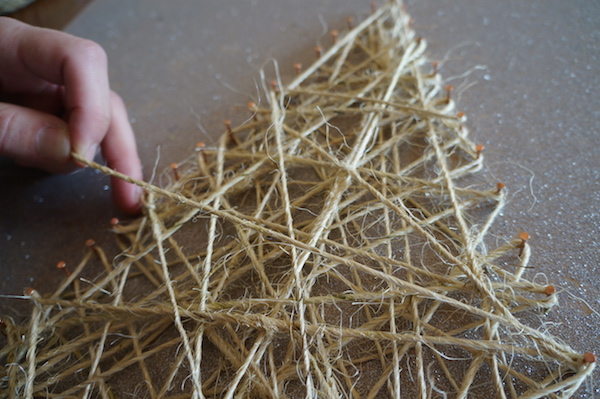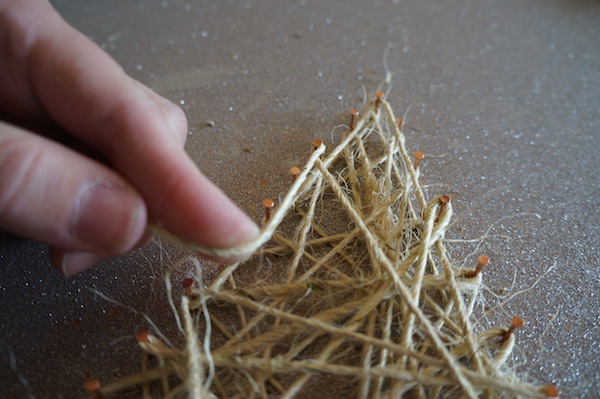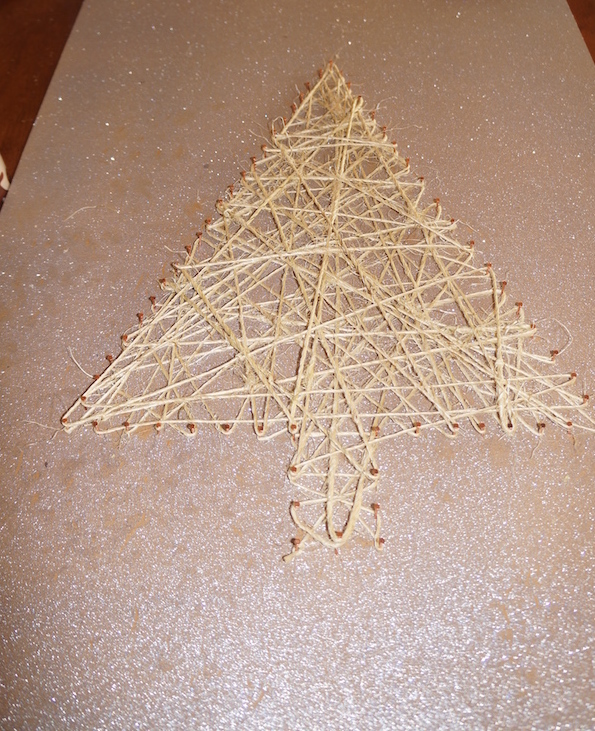 For some decorative charm we added small bells, attached with red string.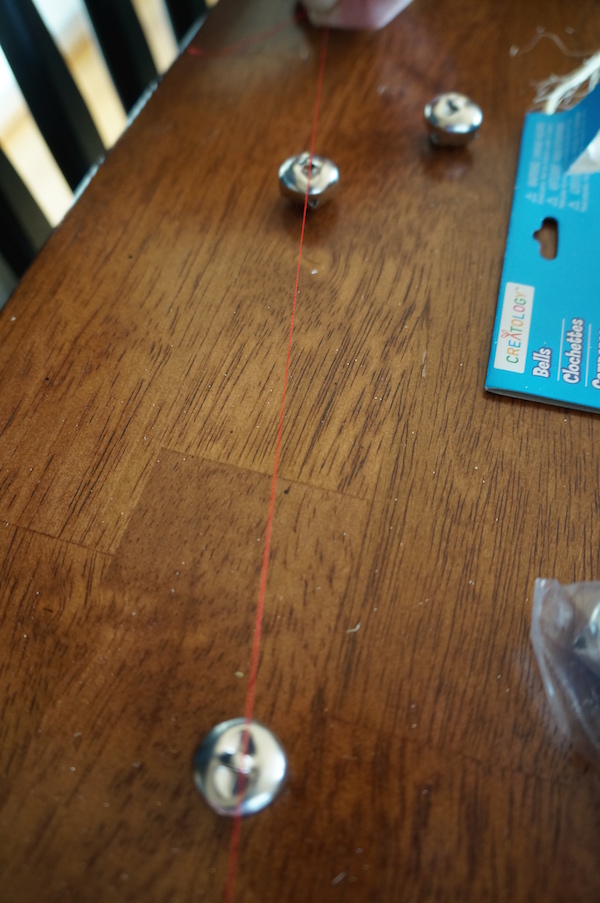 Finally we spray painted some corner pieces with Rust-Oleum Gold Glitter spray paint for just an added touch.
Attach with some wood glue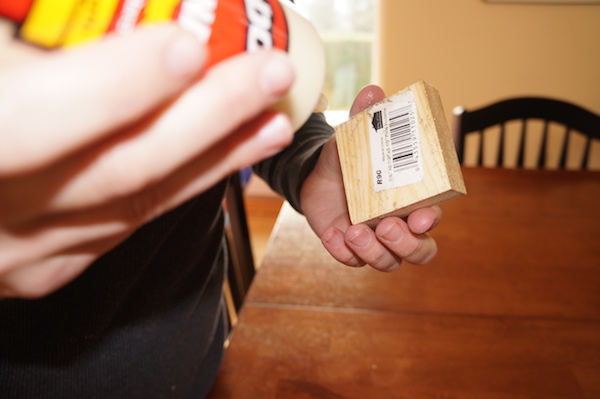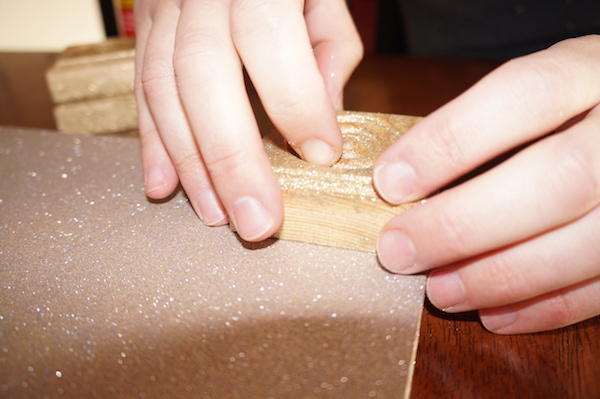 We added a red bow as a tree topper and added some Scotch Gingerly Duct Tape and Scotch Holiday Friends Duct Tape cut into presents just just a little extra flare, but decorations are completely up to you and the kids. Keep it sparce for a rustic look, or add a bunch of add-ons to make it a bit more fun inspired.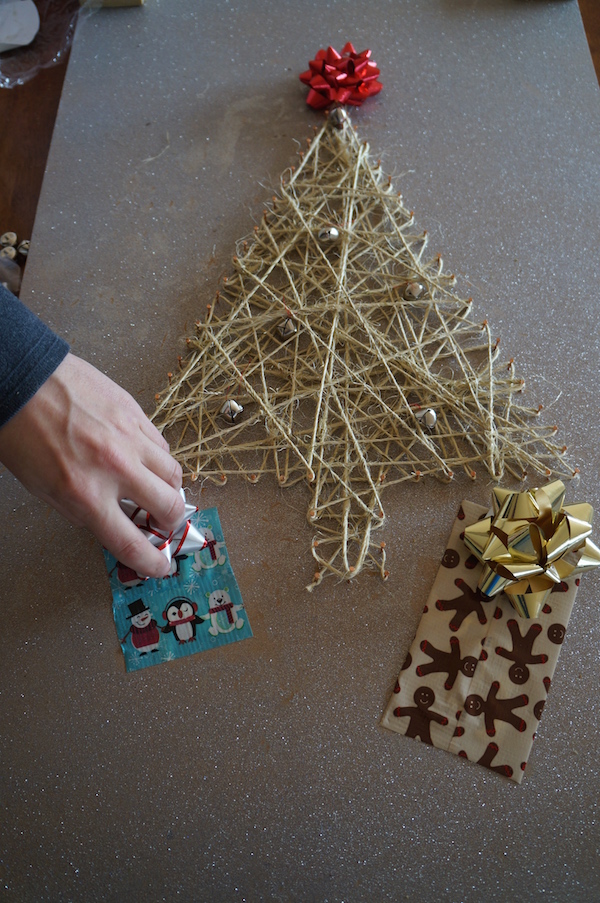 Finally, find a place for your new decoration and spread some holiday cheer!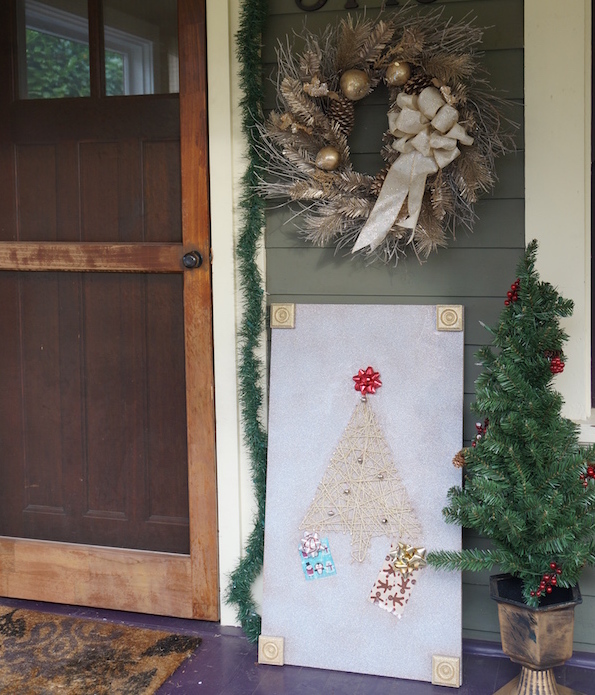 We love to share ideas that make sense for a busy and bustling family. The holidays are a busy time and within just a few hours you can have a decorative piece of art to enjoy making with the kids and share with the neighborhood. If you're feeling really inclined, add some lights to it to spruce it up even further. The point is to have fun and enjoy the time together.
From all of us at Dads Who Diaper, we wish your family the very best this holiday season and a happy New Year!
The Home Depot is partnering with Dads Who Diaper to participate in this Holiday DIY Program. As part of the program, Dads Who Diaper is receiving compensation in the form of products and services for the purpose of promoting The Home Depot. All expressed opinions and experiences are our own. This post complies with the Word Of Mouth Marketing Association Ethics Code and applicable FTC guidelines.
You can subscribe and download the "Dads Who Diaper" podcasts on iTunes here.

Comments
comments