'tis the season for holiday travel and being on-the-go. Between visiting family, holiday parties and events, running errands, and more, you may feel like you're on the road more than at home. Making sure you have everything you need while on the road can be hard, plus adding more to your diaper bag may just not seem possible. So we've found two products you can feel confident will for sure help you while out and about.
Whether you're on the hunt for a gift idea for new parents or just looking to do some shopping of your own, Cozy Cover has you covered with a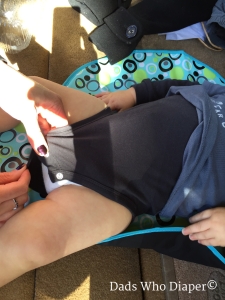 variety of products including the On-the-go Changing Pad & Portable Easy Seat. We tested them out recently on a trip to Houston and found them to be a perfect and easy addition to our toddler's travel bag.
Related content: Dad's Survival Guide: "When one parent travels"
What we love: Portability is key with these two products. Small, portable, and easy to use, the On-The-Go Changing Pad is perfect for those busy non-stop days. We headed from the museum to the zoo, with meals and family visits in-between. With limited access to changing tables at times, we repeatedly pulled the changing pad out and used the back of the car as our changing table. The pad was large and soft enough to protect our little guy, but small enough to stay compact inside our bag. While we didn't use the pouch to store wipes (already had them ready to go) the mesh pockets are a perfect size to slide some in and be prepared in a jiffy. With a quick wipe down we folded our pad up and slid it right back inside our bag for the next use. It's stylish for both dad or mom and is non-chlorine, PVC & phthalates free. Priced at a reasonable $11.99, this pad is durable and with normal use should last you for quite some time.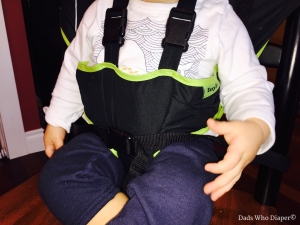 The Easy Seat is a nifty idea that turns nearly any chair into a high chair for your toddler. It comes in a portable pouch that allows you to keep the buckles contained and not get tangled in your bag. Safety of course is a big concern with products like this, making sure your toddler is safe and comfortable. A 5-point harness does a very good job of keeping your little one snug and secure once inside. Buckles click tight and adjustable straps allow you to size to your needs. The one thing you lose with the Easy Seat is height, which means your little guy or gal may be a bit lower than the table. It's machine washable (bonus!) to get all the food off and is very easy to travel with. The process for setting it up is fairly simple and can be done quickly, which is nice for crowded locations.
Our Challenges: We found both products to be very durable and designed very well. The changing pad during heavy use and taking it in and out of a diaper bag repeatedly, has the potential to show some wear and tear. Though we experienced no problems and have seen it to hold up quite well thus far.
The Easy Seat is limited to 35 pounds which may come sooner for some toddlers who may still not ready for the booster seat. Of course adding weight to chairs and a wiggly toddler can create concern for tipping the chair, so always make sure your toddler is supervised while in the Easy Seat. Like re-folding a map, getting the seat folded and back into the travel pouch can be cumbersome at times, two hands are definitely needed. Hopefully someone can watch baby while you're packing. Overall this is a very unique and  helpful product that allows you to feel confident your child is secure at the table. That is comfort enough to make the $19.98 purchase.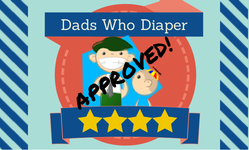 Recommendation: Buy. Both would be ideal additions to your travel arsenal.
Disclosure: Cozy Cover provided the products to facilitate this review but as always all thoughts and opinions are strictly our own.
You can subscribe and download the "Dads Who Diaper" podcasts on iTunes here.
Follow us on Twitter: @DadsWhoDiaper
"Like" us on Facebook: Facebook.com/dadswhodiaper

Comments
comments