Our laundry room is not what I would call a "functional space." Yes, those would be air quotes if we were sitting together right now.
Tucked away in our basement, it's got a few things going for it but certainly isn't what you would call…fancy. We finished off the basement some years ago and love it as a great place for playtime, TV watching, and much more. But when we put up the walls for the laundry room we kinda had a 'we'll deal with that later' mindset. Well, later has come and passed and it's still looking the exact same.
Related content: Simple art center for your kids
So with our honey-do list getting longer and longer for this spring, we may just have to add that to the list too. Today's post features Tim Smith, a writer for Modernize specializing in home decor, and a few ways to spruce up your often ignored and tired looking laundry room. Hopefully, a little less so than ours.
A laundry room is often shunned as a forgotten place, but it houses plenty of opportunities to transform it into a fashionable extension of your home rather than a neglected afterthought. As the man of the house, you can gear up for a weekend of creative work that your whole family will appreciate.
1. Add a Backsplash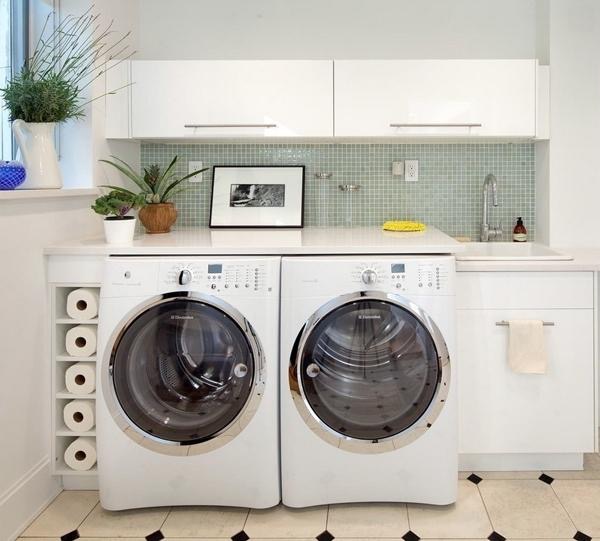 Via Modernize
Make a splash in your laundry room by adding a backsplash. For a design that blends in with the rest of your home, coordinate the color and style with that of your kitchen backsplash. Not only will it add a certain sparkle to the space, it will protect your walls against potential water damage. If you're looking for a quick and easy Saturday project, consider using a self-adhesive variety to cut installation time in half.
2. Build Shelves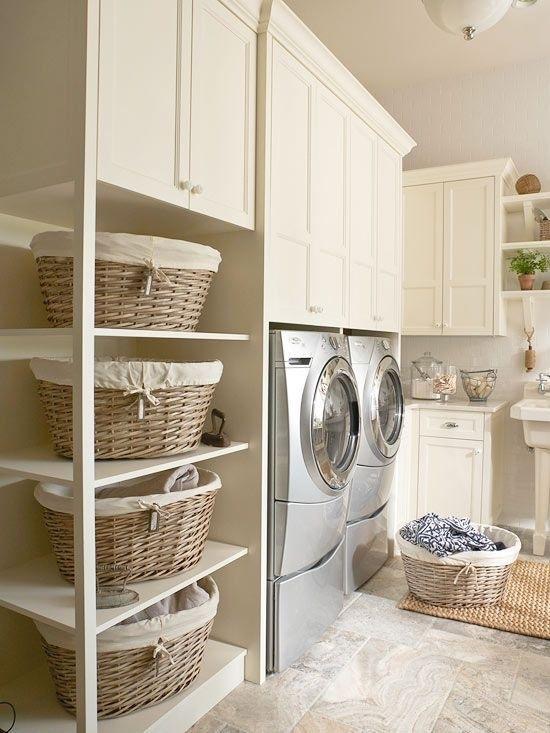 Via Modernize
Clothing, baskets, cleaning supplies and more can pile up faster than children's dirty clothes can accumulate, and everyone knows that's pretty fast. Declutter and increase storage capacity by building shelves that take advantage of your wall space. Cut the boards to varying lengths and stagger them for a fun and funky look. Whether you top the shelves with baskets, glass jars or other organizational methods, your wife will love the efficiency and usefulness they offer.
Related content: Simple DIY storage locker for any room at home
3. Install or Update Cabinets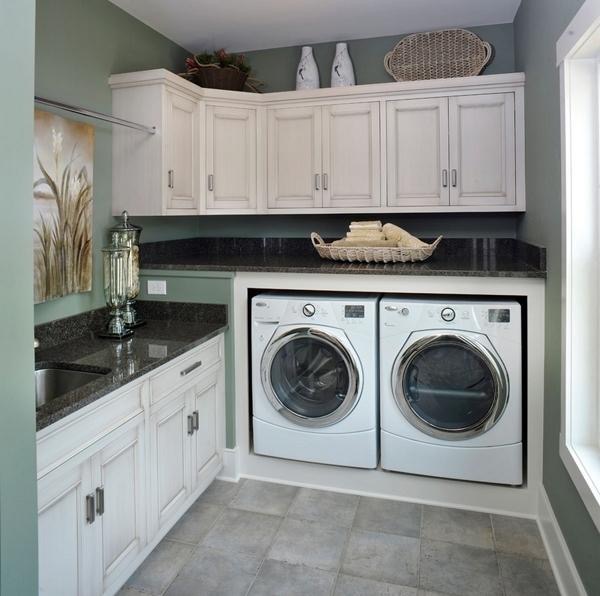 Via Modernize
If your laundry room's walls are bare, liven them up with chic cabinets that your partner is sure to love. Even if you have pre-existing cabinets, replacing or repainting them can completely transform the room's overall atmosphere. Consider selecting or painting the upper and lower cabinets different colors to add more interest. Go the extra mile, and cover one of the door faces with chalkboard paint, which will provide a place to write out the week's cleaning schedule. When budget or time is limited, it's surprising what a little stain and new hardware can accomplish.
4. Hang a drying rack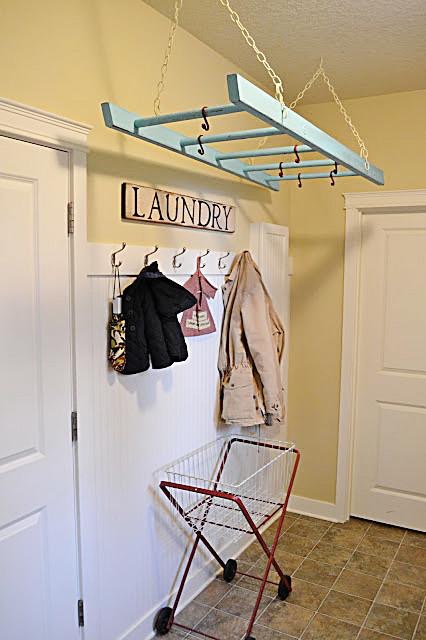 Eclectic Laundry Room Via Houzz
Score both utility and style by recycling old supplies into a drying rack. Using an old ladder, tap in to your DIY skills, and repurpose it into a rack to dry clothes naturally. Since dryers are quite the energy hogs, a unique drying rack has numerous benefits. In the right hue, the sanded and painted ladder will be the pop of color you need to brighten the room. Hanging from the ceiling, the reclaimed ladder will quickly become a statement piece that defines the area. Not to mention, this particular project gives you the perfect excuse to purchase that new ladder you've had your eye on lately.
Related content: 6 ways to keep your kids safe around tools
From stylish storage solutions to creative concepts, you can become Super Dad in as little as one weekend by focusing on small projects with big impacts. With work to fit all skill sets and budgets, you can create a laundry room your family will enjoy for years to come.
For more home design ideas, visit Modernize.com.
Like what you've read? CLICK HERE to subscribe to this blog!

Comments
comments