I can appreciate where this commercial is trying to go but this is a prime example of how marketing and advertising companies still think about dads.  Bumbling parents who can't take care of their kids for a few days while mom's away.
Sure, dads are (a little) more likely to let a few things slide that maybe mom won't.  Pizza for dinner twice in a row?  Sure.  Extra scoop of ice cream for dessert?  Why not.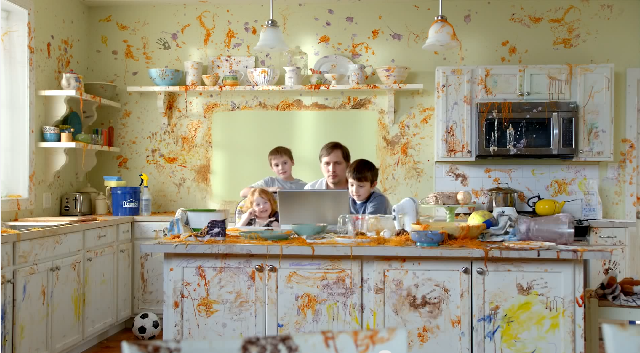 Though that does not mean dads today aren't capable of keeping the kitchen clean, homework done, and after school activities on track for a few days.  In fact, there are millions of dads who are doing this on a daily basis.  Though you'd never know the shift going on in American homes by looking at the representation of dads on TV and in marketing.
Now, that's not to say some aren't trying.  Dove Men + Care recently made a splash with their 2014 Father's Day commercial that celebrated and highlighted the "modern" dad.  One eager to change diapers, do feedings, pull the late shift, and more.
"Three quarters of dads say they are responsible for their child's emotional well-being, while only 20% of dads see this role reflected in media."

Dove Men + Care Youtube Channel
Their efforts are applauded and appreciated, and I hope reciprocated with sales.  Also, there are various other select commercials being aired that more accurately represent the father inside many homes today.
What I find most surprising about this Valspar commercial is that it's for a company whose bread and butter is men coming in to buy supplies to fix their home.  In essence saying, we know you can fix the toilet but you simply can't keep the kids in line for a few days while on your own.  Talk about a double standard.  You can do anything to fix the house, except actually take care of it when mom is away.
I would expect a little bit better from a company who spends the bulk of their advertising dollars trying to get men in the store.  This ad and concept has, for me, done the exact opposite.
You can subscribe and download the "Dads Who Diaper" podcasts on iTunes here.
 Follow us on Twitter: @DadsWhoDiaper
"Like" us on Facebook: Facebook.com/dadswhodiaper
Comments
comments