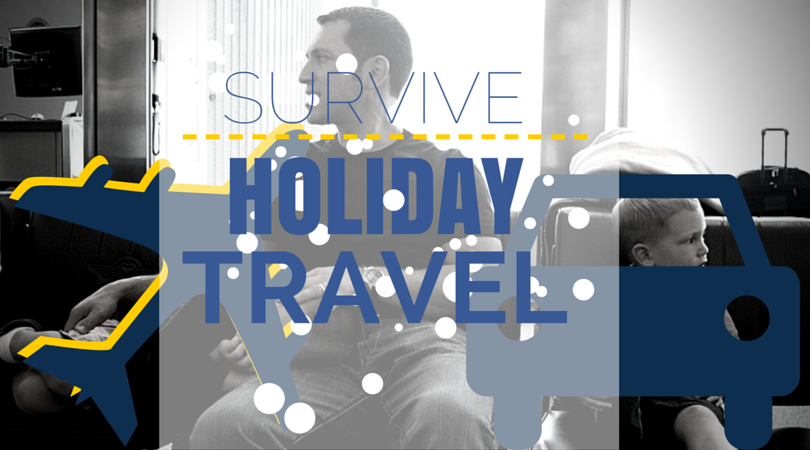 "Try not to sweat it, lower your expectations."
The travel nightmare that is the holiday season is almost upon us and that means stress, chaos, and the occasional meltdown. Whether traveling by planes, trains, or automobiles, going on your merry way with children has its unique set of challenges. While we can't whisk you away in some private teleportation vehicle, we can offer some easy to remember tips to help keep the stress low and the happiness high.
We reached out to licensed family therapist Sam Stevens for some tips to help keep calm and happy. When you hit the roads, rails, or skies, this year take comfort in knowing how to keep everything running smoothly.
Maintain Flexibility – The biggest thing you can do is maintain health and happiness while traveling is to maintain flexibility. Try not to sweat it, lower your expectations. Travel around nap times to maximize sleep time. Run your kids as much as you can before you travel. Tiring them out is really good.
Goodies in Groups – Pack a travel bag/goodie bag full of toys and other distractions but don't bring it all out at once. Break them up and share over time so that you have new things being introduced throughout the trip.
Stroll to the Gate – If flying, take your stroller all the way to the gate. This is great for packing your children along, or using it to carry your bags so you don't have to.
No Early Boarding – Board last, unless you need more time to get settled. Or send one partner in with all the gear, and one stays out with the kid(s) and boards last. The less time spent on the plane the better.
Time is your Friend – Airlines give much more priority to parents with small children, especially infants. But get to the airport early to give yourself plenty of time to deal with unexpected hassles like a blowout while you are in the security line, spit up, a tantrum, etc.
Snacks all Around – Always pack enough food/snacks for EVERYONE. Feed your baby on take offs and landings.
Break the Rules – Rules are made to be broken when traveling. You may not believe in letting your younger child play with an iphone or tablet, this is a good time to make an exception.
Ditch the Guilt – If other people on an airplane are enjoying distracting your baby, don't feel guilty. Enjoy it.
Buy in Bulk – If traveling overseas or long distances, try to get the bulkhead seats on an airplane, (those at the front of the cabin). They don't have a seat in front of them and have more legroom. Seats at the back of a plane near the restroom (they have changing tables) are helpful if you are going to be changing lots of diapers.
Free Your Hands – Baby carriers are great on the plane when the baby needs to be rocked and swayed, giving your arms a rest.
Break it Up – If traveling by road, plan on taking at least twice as long if it extends much beyond a kids nap times. Get out a lot, take breaks, eat, etc.
Baby proof – To baby proof a hotel room or other foreign room take some blue painter's masking tape and some extra socks. Use the tape for outlets, and tape socks to sharp corners for safety (Special thanks to Be Prepared by Greenberg and Hayden).
Traveling means getting to see family and celebrating the holidays together. Just remember it's only for a short period of time, focus on the destination instead of the potential headaches along the journey.
Subscribe and download the "Dads Who Diaper" podcasts on iTunes here.
Follow us on Twitter: @DadsWhoDiaper
"Like" us on Facebook: Facebook.com/dadswhodiaper

Comments
comments